A Great Place to Work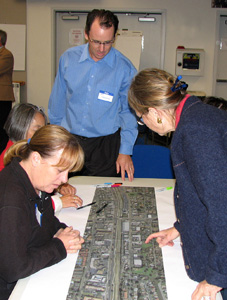 Nasland is a terrific place to work. Our community of professional engineers and surveyors, designers, technical/computer staff, and administrative personnel operate from our headquarters in the beautiful city of San Diego California. Nasland also has a branch office in Boise, Idaho. Our civil engineers and land surveyors are licensed and engineered in the vital and varied settings of California, Idaho, Arizona, Nevada, and Washington.
We offer a full and generous benefits plan designed to meet the needs of all our employees. This includes:
•    Medical and dental insurance
•    A 401(k) retirement plan with matching contributions
•    Long-term disability coverage
•    Life insurance
•    Paid sick leave, vacation and holidays
•    9/80 work schedule
•    Training opportunities including professional seminars and in-house training
And, though we are utterly professional, we also have fun, with our annual Summer Picnic, Day at the Races, Padres Baseball Game and Holiday Party.  If you're looking for a fulfulling career at an extraordinary company in the exciting cities of San Diego or Boise, Nasland Engineering wants to meet you.
CURRENT OPENINGS
Project Engineer – Civil (San Diego Office)
Design Engineer – Civil (San Diego Office)
Entry Level Civil Engineer (San Diego Office)
For information on open positions, please email us