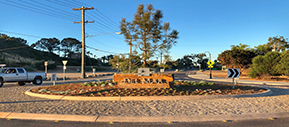 Del Mar Citywide Sidewalk Improvements
The objective of this project was to improve pedestrian and bicycle mobility throughout the City of Del Mar.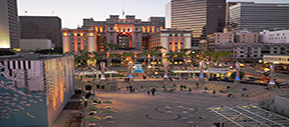 The project created an iconic community space, energized the neighborhood, and addressed social and physical conditions of the blighted historic park.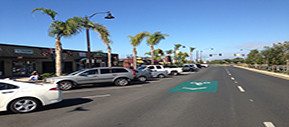 Highway 101 Westside Improvements
The project design promoted traffic calming, reduced vehicles speeds and promoted walkability and bicycle use in the community.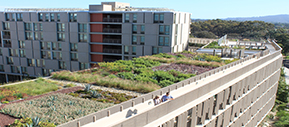 UCSD Charles David Keeling Apartments
The $56 million student housing project was awarded LEED-New Construction Platinum certification.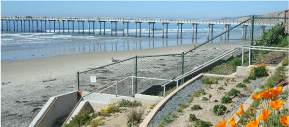 Scripps Institution of Oceanography (SIO), Stormwater Water Pollution Control Plan
Engineering services for the $1.6 million renovation of the storm drain and runoff from SIO.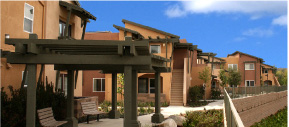 Engineering design for California's first apartment community to be fully powered by the sun.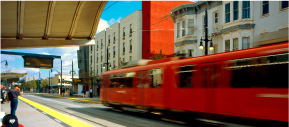 Park to Bay Link / 12th Avenue Enhancement
Engineering and surveying design for the tree-lined pedestrian promenade in downtown San Diego.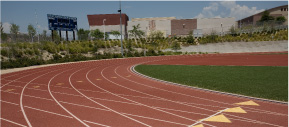 Provided engineering plans and specifications for the design and development of a new High School.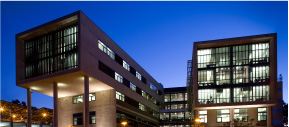 Provided grading and utility plans for the state-of-the-art, $32 million expansion project.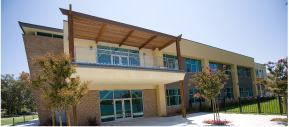 Padre Dam Customer Service Center
Prepared on-site civil engineering plans for this 30,000 square foot facility.

Civil Engineering Project List
GOVERNMENT/MILITARY
Bachelor Enlisted Quarters 2408, Camp Pendleton
Entry Control Point Upgrades to Gate 30, Naval Weapons Station, Seal Beach
Mammal Facility, NAB Coronado
P1086 Field Barracks Camp Pendleton
P204 Fleet Numerical Meteorology & Oceanography Center, Monterey
P495 Flight Training Facility, Yuma
Pier 4 Repair, Naval Station San Diego
Rehabilitate Seabee Mobilization Warehouses, Naval Base Ventura County, Port Hueneme
Upgrades to Guard Post #2 Naval Base Point Loma, Point Loma

PARKS AND RECREATION
Cactus County Park, Lakeside
California Riding & Hiking Trail
Carmel Valley Neighborhood Park, San Diego
Children's Museum Park, San Diego
Cortez Hill Park, featuring Tweet Street
El Capitan Bike Path
Felicita Park, Escondido
Fiesta Island Youth Campground
Fritz Burns Park, La Quinta
Guajome Park, Oceanside
Heritage Park, San Diego
Home Avenue Park, San Diego
Horton Plaza Park Improvements
Kumeyaay Lake Campground
La Mesita & Briercrest Parks, La Mesa
Loma Alta Park, Los Angeles
Memorial Skate Park, San Diego
Miracle Field at San Dieguito Park
Mountain View Park, Escondido
North Chollas Community Park, San Diego
Pacific Beach Lifeguard Tower
Park De La Cruz, San Diego
Pine Valley Ballfields
Robb Field Skate Park, San Diego
Santee Lakes Campground
Silvergate Yacht Club
Southwest Yacht Club Improvements
Teralta Park, San Diego
Water Transportation Center & Park
Wightman Street Park, San Diego

TRANSPORTATION
5th & Market Pedestrian Scramble
College Grove Drive
Downtown San Diego Traffic Signalization and Lighting Program
El Cajon Boulevard Streetscape
El Capitan Bike Path
Highland Avenue, National City
Highway 101 Improvements, Solana Beach
Market Street Medians
National City Boulevard -Mile of Cars
Old Otay Mesa Road Widening
Old Palm Avenue Streetscape
Olive Vista Drive
Park to Bay Link – 12th Avenue Enhancement
Park to Bay Link II / Smart Corner
San Vicente Road Improvements
San Diego County Emergency Road Repairs
Seacoast Drive Improvements
University Avenue Streetscape, HillcrestACTIVE TRANSPORTATIONCoastal Rail Trail, San Diego
Encinitas Coastal Rail Trail
Rose Creek Bikeway
Pershing Bikeway
San Diego River Trail
Uptown Bikeway
Camino Del Mar Trail
Trail 95 El Camino Del Norte, EncinitasFIRE STATIONS/PUBLIC SAFETY
Bayside Fire Station No. 2
Escondido Fire Station No. 4
Escondido Fire Station No. 5
Ladera Fire Station No. 58
Lakeside Fire Station No. 3
Valley Center Fire Station
Rancho San Diego Sheriff Station
San Diego Police Department Firing Range
Palomar Fire Station Living Quarters

RESIDENTIAL AND MULTI-HOUSING
Altas Condominiums, San Diego
Cedar Creek, Santee
COMM 22 / Bronze Triangle, San Diego
Dove Canyon /4S Ranch Apartments, San Diego
El Portal Residential Development, Calexico, CA
Fashion Walk San Diego
Florida Street Apartments, San Diego
La Boheme, San Diego
Latigo Ranch, Brawley, CA
Monarch at Scripps Ranch
Monarch at Shadowridge
Oak Knoll Apartments – Poway
Parkside – San Diego
Sage Canyon Apartments – San Marcos
SOLARA – Poway
Turnagain Arms Apartments – Fallbrook

K-12 SCHOOLS
San Diego Unified School District
Clairemont High School Infrastructure Repairs
Correia Middle School Washout Repair
Hardy Elementary Slope
La Jolla High School Drainage Study
Lincoln High School Replacement
Marshall Elementary School
Marvin Elementary School Construction Support
Marvin Elementary School Playground
McAuliffe Park Grading
Valencia Park Elementary School
Coronado Unified School District
Strand Elementary School Additions and Renovations
Coronado High School Aquatic Center
Coronado High School & Coronado Middle School Track and Artificial Turf Fields
Coronado High School Various Renovations
Sweetwater Union School District
Eastlake High School Topo
San Ysidro High School
Otay Ranch High School
Hilltop Middle School Renovation
Mar Vista Middle School Renovation
National City Middle School Renovation
Southwest Middle School Renovation

FLOOD CONTROL/WATER QUALITY
Beeler Creek Floodplain Mapping  & LOMR
Chollas Creek Opportunities and Constraints Study
Eastridge Master Drainage Plan
Floodplain Analysis for San Luis Rey River Park MP
First San Diego River Improvement Project (FSDRIP)
Gold Creek LOMR
Rose Creek Hydraulic Modeling and Erosion Repairs
SIO Stormwater Water Pollution Control Plan
Stevens Creek Study, City of Solana Beach
Villa Paraiso LOMR
COMMUNITY COLLEGES
San Diego Community College District
Mesa College Utility Infrastructure Master Plan
Mesa College Stadium Water System Relocation
Mesa College Stadium Restrooms (East and West)
Mesa College Guardrails
Mesa College Fire Lane
Mesa College Water Loop
Mesa College Parking Lot 1 Striping & Lighting Plan
Mesa College Math/Natural Science Building Survey
Mesa College Social Behavioral Science Building
Construction Staking
Mesa College Telecom Vault Troubleshooting
Miramar College Topographic Surveys
Miramar College ADA Ramp
Southwestern Community College District
Higher Education Center, Otay Mesa Campus
Transit Center
Palomar Community College District
Palomar College Theater Remodel
Palomar College Arboretum
Grossmont Community College District
Grossmont College Parking Structure (Lot 5)

HIGHER EDUCATION
University of California, San Diego (UCSD)
Charles David Keeling Apartments
East Campus Infrastructure Design
Experimental Aquarium Saltwater Drain Line and
Sewer Connection
Faculty Club Expansion
Hopkins Parking Structure
Housing and Dining Services Administration
Building
Marine Ecosystem Sensing, Observation, and
Modeling Laboratory
San Diego Supercomputer Center Expansion
SIO Saltwater Return Pipeline
SIO Stormwater Water Pollution Control Plan
Rady School of Management
Revelle College Sewer Study
The Wedge (Phases I through 4)
Theater District Hot and Chilled Pipelines
University House
San Diego State University (SDSU)
Zura Hall Renovation
Tula Conference Center and Tenochca Hall
KPBS Expansion and Renovation
Sports Recreation Field
College of Arts & Letters
SDSU Dormitories
International Student Affairs Center
Sorority Row Housing
Fields PG610 and PG620

RETAIL/COMMERCIAL
Broadway Plaza, Chula Vista
Corona Commercial, Corona
Corporate Research Park, San Diego
Costco, Various Locations
Hemet Towne Center
Lake Elsinore City Center
Marketplace @ the Grove, Lemon Grove
McDonald's Corporation, Various Locations
Monarch Office Buildings, San Diego
Parkway Business Center, Poway
Smart Corner, San Diego
Southbay Sam's Club, Chula Vista, CA
Torrey Pines Science Park, San Diego
Trident Center, San Diego

HISTORIC
Balboa Theater Rehabilitation
Candy Factory
Georgia Street Bridge
Horton Plaza Redevelopment
Ivy Hotel
Poway Midland Train Depot
Santa Fe Depot, National City
Senior Wellness Center
UCSD University House

PARKING STRUCTURE/LOTS
Allison Avenue Parking Lot, La Mesa
America's Cup Harbor Parking Garage
Columbia Parking Garage
Grossmont College Parking Structure and Lot 5
Mesa College Parking Lot 1
P-1 Parking Structure
Padres C Parking Lot
Park it on Market
Tailgate Park Parking Lot
UCSD Hopkins Parking Structure

HEALTHCARE & ASSISTED LIVING
Bressi Ranch Professional Care Facility, Carlsbad, CA
Carmel Valley Health Care Facility, San Diego, CA
Channel Way Active Care Facility, San Diego, CA
Grossmont Medical Office Building
Health Occupation Training Center, Grossmont Healthcare District
Kaiser ADA Upgrades
Las Villas Del Norte, Assisted Care Facility, Escondido, CA
Sharp Cabrillo Medical Office Building
The Village at Briercrest, La Mesa, CA
UCSD Hillcrest Medical Center

WATER RESOURCES
Cortez Sewer Rehabilitation
Dulzura Flume 22
East Village Sewer Study
El Capitan Pipeline
Emerald Hill Standpipe
Encanto Standpipe
Lake Barrett Reservoir Pipeline Hazardous Material Consultation
Lakeside Flow Equalization Facility and Pump Station Demolition
Miramar Pipeline Phase II
Miramar Water Treatment Plant
Mission Valley Interceptor Sewer Replacement
Olde Highway 80 Sewer
Otay Water Treatment Plant
Soledad Reservoir
South San Diego Reservoir Improvements
Spring Valley Outfall Sewer Rehabilitation